Stay Away From These Bathroom Remodel Mistakes For Greater Success
If you've been considering making some home improvements but don't quite know where to start, take a look at the current state of your bathroom. Do you feel claustrophobic every time you go in there? Is it lacking in storage space? Is your tile dingy, damaged and the color of Pepto- Bismol? Answering yes to any of these questions is a good indicator that this is the perfect place to begin updating your property.
A bathroom remodel is one of the best ways to add value and comfort to your home. Modern bathrooms constructed with quality materials and the latest innovative features (i.e. dual-flush toilets, radiant flooring, spa-like showers, streamlined faucets, etc.) will make you a more satisfied homeowner as well as add appeal for potential buyers if you ever decide to sell.
However, a project like this can go seriously awry if not done correctly. Instead of becoming one of those homeowners with a renovation horror story, make sure the job goes nice and smoothly by steering clear of these common mistakes.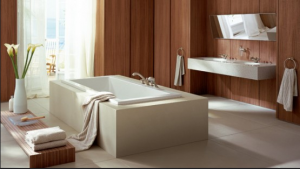 Image credit: https://flic.kr/p/7ZtCXe
Not Having a Clear Budget and Concept
Underestimating your budget can cause major turmoil in the middle of your bathroom remodel. If you don't have enough money set aside for labor, materials, appliances AND unforeseen circumstances that can arise, like having to repair water damage and/or get rid of mold, having to replace old galvanized steel plumbing, having to fix insufficient water pressure, etc, your project may come to a screeching halt or you may have to cut back in another area. You want to make sure you can properly fund your plans in order to achieve the results you want.
In addition, not going into your remodel with a clear vision of what you want and continuously changing your mind once the work has already been started is likely to lead to a lot of frustration, increased costs and an extended timeframe for completion.
Not Going For a Timeless Design
There's nothing wrong with having a funkier style and wanting to display that in some of your home decorating ideas, but when it comes to things more permanent, such as sinks, bathtubs, lighting, toilets, etc., you may want to keep to a more classic and timeless design. Thinking long-term is the way to get the most value out of your bathroom remodel, and what might be the latest trend today won't necessarily still be attractive in the future when you're trying to lure in a buyer. There are plenty of ways to design a bathroom that will have your personal touch and yet remain functional and aesthetically-pleasing to just about anyone.
Not Hiring a Professional
Changing out lighting fixtures or swapping faucets may be okay for a DIY project, but more involved jobs require professional help. Bathroom remodels can get quite complex, especially if any of the unanticipated situations mentioned above are encountered. An inexperienced homeowner isn't equipped to take care of critical tasks like plumbing and electrical work. There's also a good chance that without expert guidance you won't get the right permits and could mistakenly select unsuitable products and materials for a bathroom environment. Save yourself time, money and a headache by hiring a contractor with a solid reputation.
Not Considering Ventilation
Ventilation should be one of the biggest priorities of the planning stage, but so many people still forget about it. Bathrooms harbor the ideal atmosphere for humidity to build up, and before you know it, you could have a big mold problem. Moisture is also damaging to paint, grout and metal. If possible, design a bathroom with windows and always factor in a fan.
Planning your bathroom remodel should be fun and exciting. Make sure the process doesn't become a nightmare by avoiding these missteps.