Most comfortable air mattress – all you need to know to choose right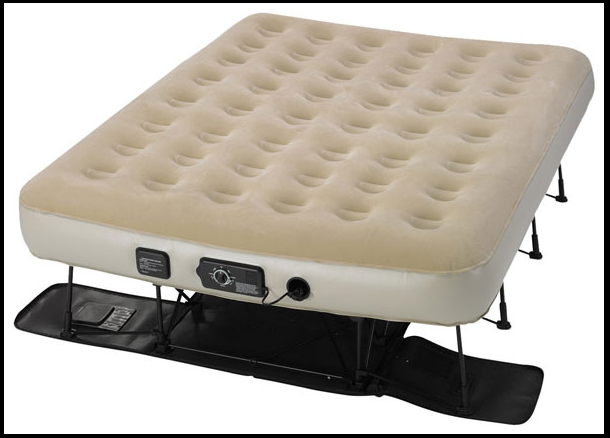 Airbeds have entered the mainstream of interior design and are today not only a choice for moving or for having guests over, but a viable long term solution as well. But finding the most comfortable air mattress for your buck has never been so complicated.
With all the new technology additions, the never-flat pumps, the FiberTech materials, various designs of internal chambers, it gets too much for a regular person.
So, today, we'll provide a concise list of tips for choosing the most comfortable air mattress (or inflatable bed, whichever you prefer).
Tip 1: Choose a mattress with a coiled design
One of the main issues of the old-school blow up beds is that they were not very supportive. The sleeper would sink to the middle of the bed which caused back problems for most people.
It's what gave the bad name the air mattress companies are still trying to ditch.
Today, the better air mattresses feature what's called a coiled design. In these airbeds, the sleeping surface is very firm – to the point that they feel like a real mattress.
It's all due to the internal coils doing a much better job at distributing weight.
Flatter surface, more comfortable mattress.
Tip 2: Choose chambers
Modern airbeds feature what is called a dual chamber design which resolves the issue of rushes of cold air.
So, instead of beams, go with chambers when choosing a comfy airbed.
Tip 3: Consider EZ beds
If you are not looking for a camping air mattress (that would have to the sturdier and made from thicker PVC, yet easy to carry) but looking for temporary solution for guests or moving and EZ air mattress might be your solution.
EZ is just a name for a type of air mattresses that comes with a frame and keeps you safe of the ground.
These beds do cost more, but are much more durable and comfortable. And they look cooler, too.
Tip 4: Lock for a flocked top and a grip bottom
The better brands of inflatable beds almost always include both of the mentioned features.
The soft flocked top feels softer against the skin but, more importantly, "holds" sheets better. In non-flocked beds, the slippery surface of the PVC doesn't hold the sheets and the friction between the two usually mean pilling of the sheets and a sore back for the sleeper.
Tip 5: Research and read reviews
The last tip is just common sense, before making a decision, filter down your choices to a few models and thoroughly read the reviews looking for the more comfortable option.
Look for "red lights" like warnings about air leaks or internal seams popping.
Search for reviews from in similar situations – for example, if you are looking for an air mattress for two, you'll drill down through the reviews looking for couples sharing their experiences.
Last piece of advice
The whole point of this short instruction is to choose well and save in the process, but if it comes down to a few models, exclude the price from the equation.
Few things are more important than a good night's sleep.