Corporate Relocation: What You Need to Know
Corporate relocation can be a stressful venture for every business owner. Much like moving from one home to another, there are certain things that should be remembered when you are relocating your business. This short, but comprehensive checklist will help to ensure that you remember important aspects during your office move, so that you don't lose your current or future customers.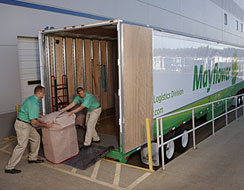 Consider your Available Online Address
With the increasing popularity of the internet, more individuals are beginning to research companies online before making any purchasing decision. When you move from one location to another and you have had a previous address listed on a search engine such as Google or Google+, you will need to ensure that you change your online address once you have moved. The majority of search engines require that businesses have a physical address prior to changing their online address; therefore you will want to change it the day that you move. After you have switched your address, check all your on-line directories for any duplicates so that you can have them updated and or removed.
Change Your Mailing Address
Although the majority of the correspondence that your business will receive will be via the internet, you should still consider changing your mailing address with your federal postal service. This is important not only so that you can receive letters and other deliveries, but it is also an available resource for legal purposes. You can easily change your mailing address by speaking with a representative at your local mailing office.
Consider Your Reviews
As previously mentioned, the internet is an incredibly useful resource for customers who are looking to find local businesses. They also commonly use the internet to search for reviews about specific businesses; therefore you will want to ensure that you are able to move your reviews from search engines or directories. The majority of search engines provide businesses with the opportunity to fill out a review relocation form to ensure that the reviews will coincide with your business name and your new address.
Keep Your Employees Informed
The single most important component of corporate relocation is to keep your employees informed during the entire process. Whether you send out weekly newsletters or host weekly staff meetings during the moving process, it is important that you make the employees feel like they are a part of the process. Many companies even find it advantageous to approach employees and have them assist with the move so that they can get a hands-on approach to the process. The more that your employees are informed; the happier they will be with the overall move.
Corporate relocation can be stressful and difficult without an idea of where to start. With the use of this guide, you can remember the most important components of moving your business. With the ability to keep your customers informed of your move, to bring your positive customer reviews with you, and to allow your employees to help with the relocation, you won't have to worry about moving your business. On the other hand, you can always use a corporate relocation company. If you are located in the Fort Lauderdale area, you can get in touch with the experts at A1A Atlantic Moving & Storage. They will be happy to assist you with any special needs or requirements. Call them today at 1-800-882-1711.