Complimenting Your Space with Wall Art
Unless you're fortunate enough to be able to afford a Francis Bacon or Monet, wall art will often make a poor investment, but that doesn't mean that you can't pick something that looks fantastic. In the following article, we're going to offer some tips on choosing the perfect piece of canvas artwork for your home.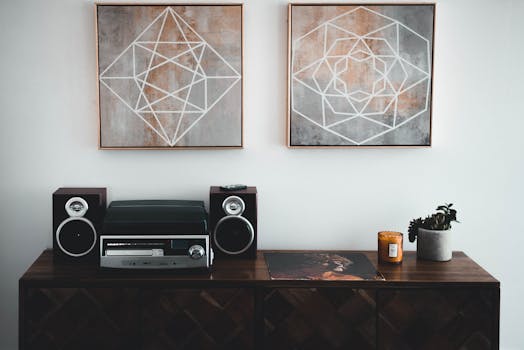 If you're new to buying wall art, the choices available to you can be overwhelming, knowing where to start your search is half the battle. As with most purchases the internet is an obvious place to start, however, some people seem to have the misconception that approaching a preferred artist directly will result in a lower purchasing price, in reality, online galleries are often cheaper or the same amount compared to buying directly from the artist.
If you can, try and attend art school exhibitions, where you'll be able to rub shoulders with talented young artists eager to make a dent in any student loans.
Create A Budget And Stick To It
Contemporary wall art is a particularly risky investment, as it's near impossible to predict how famous artists work will become and whether or not it will hold or increase its value over the years. For anyone with a limited budget or who's new to buying wall art, we would recommend original prints. Unlike giclee prints which are inkject reproductions of artwork, an original print is a hand-painted copy of an original made by the artist. Prices of original prints are quite affordable and start at around £50 – £100, they don't have to be expensive, and they hold their value very well compared with a reproduction.
Let Your Emotions Guide You
Any good piece of wall art should evoke an emotional response, which might be a fond memory, a memorable location or just something with gives you a positive feeling. Finding that emotional connection is vital when buying wall art for your home. You must purchase something that you love, and you'll know when you have that unique piece as it will jump out at you and have you thinking about it for days to come.
It's incredibly important to remember that wall art can and will become the focal point of any space. It's probably the single most important purchase you'll make for your décor. For this reason, it's vital that you pick something that connects with you on an emotional level, if you do this you can't go wrong.
Think About Flow
Regarding interior design, this means choosing colours that compliment each other. You can either match a piece of wall art to your existing colour scheme, or you can pick out two to three colours from the artwork and add some coloured accents around the room that match.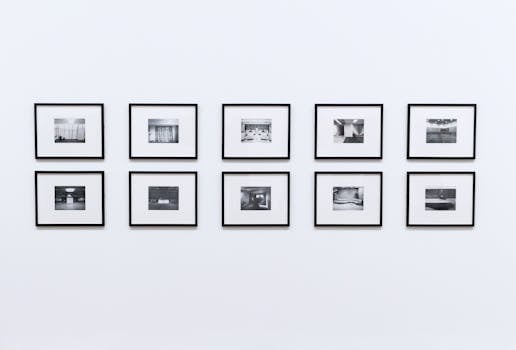 Try to repeat the shapes and feel of your room in the wall art you choose. For example, if your furniture is simple, modern and sleek, select a piece of minimalist wall art featuring clean lines and angles. At its core, it's about making sure everything works in synchronisation, that nothing sticks out and spoils to the vision of the space.
Give Consideration To Your Space
Whichever room you're looking to incorporate wall art into it's essential to give some thought to the atmosphere you're creating. Some artists styles are full of noisy energy which will work quite well in a busy social environment such as a living room or kitchen. A quieter space such a bedroom or bathroom will warrant a calmer more relaxed feel to the style of art. It's also important to think about the size of pieces, and whether they might be lost in a wall or look like, they're spilling over.
Plan Before You Hang
It perhaps goes without saying, but try to avoid hanging painting in high locations, even if you have tall ceilings; wall art should be at eye level, not hanging above your head.
Before you go ahead and purchase wall lights to best highlight your wall art, consider that lights can interfere with the artwork, detracting from the original beauty. It might be a better option to opt for a recessed downlighter which can be angled to wash the wall art with light rather than shining directly on the piece.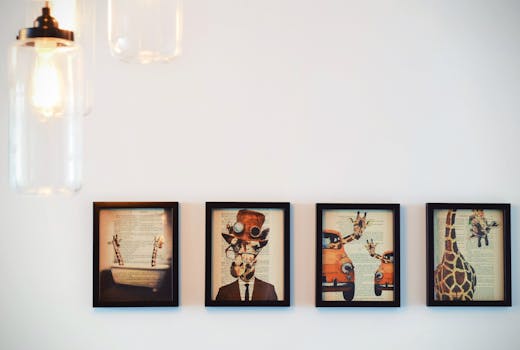 Choose the type of light carefully. Warmer white light or cool white light can significantly affect the tone of a piece and the rest of the room. The light should be chosen to compliment the colours of the wall art and the room. If you have the budget to spare then a framing projector is a great option to frame a painting with light accurately.