10 Ways to Improve Your Home's Curb Appeal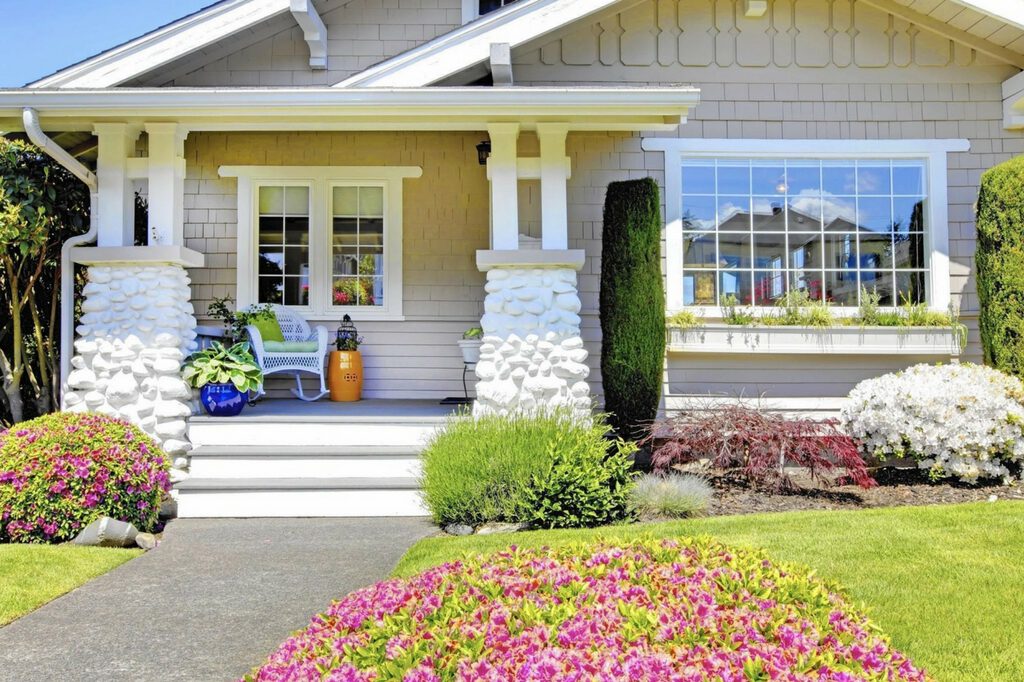 There are limitless ways to improve your home's curb appeal.  From your front door, from the lawn, landscapes, and enticing garden.  By looking at the front of your home you are making an impression, a spectacular view.  Whether you like to improve your curb appeal for your own enjoyment or just want to sell your house fast.  You can make a sensible judgment on making subtle changes for the improvement of your exterior without compromising and spending less.  If you want to make the sale at a desirable price you can do an upgrade in an inexpensive way.
Here is the easiest way to make it happen. To improve Your Home's Curb Appeal;
Spruce Your Paint
No one wants a gloomy and a dreadful look.  The paint on your house matters.  Being neatly done makes an additional appeal to your house.   You can always choose from the various color in demand, whether it is traditional, simple, and elegant colors.  From the look of your exterior wall and through your fences.  You can make one that visits you or in the near future your potential buyers drooling and wanting it by looking at your beautiful home.  A well-painted house can make a statement.
Spice up your Garden
Make the flower bloom.  Make the garden green.  Flowers and plants on the sidewalk can make a total turn-on.  Walking pass-through it can make the potential buyer stay or rather decide to buy the house instantly.  You can also eliminate unnecessary bush and uneven grass.  Make a flower bed near your entrance door.   They can be trapped by having a good glimpse of your wonderful front scene.
Show them the full view.  Cover up all the dead spots.
No one wanted their effort to be wasted.  There is no good in showing off if no one's going to see.  Trees need some trimming as well as all the plants in your lawn, it can make your home features possibly dark and uninviting. There is also an instance that your trees can take all the nutrients and leaving the soil that may affect and kill the surrounding grass and leaving the lawn with an unappealing sight.  Always improve the look of your lawn, protect it from pests, and always try to maintain its good condition.
Review the Landscape
A work of art addresses classy and meticulous homeowners and clients.  You can show your skill or consult a landscaper for a makeover.  Do not hesitate to try to beautify and add some improvements to your property, it will make a payback in the future sale.  A beautiful landscape not only brings attraction to your home exterior but also add value to your investment.
Look over your Outdoor Lightings
To pass through an entryway you need a clear path.  Consider changing the outdoor bulbs if worn out. You can change your old sconce with modern, updated outdoor lamps that will give you applause remarks from guests and awe from passersby.  A clear and neat front view can make a lot of difference.  Remove cobwebs and debris around an outdoor light fixture, to make it appear more welcoming, bright, and clean.  You can add some solar lights outdoor to light up a walkway. You can always use available solar led lights affordable and not too expensive.
Embrace Symmetry
It can create stability.  A pattern with Symmetrical patterns can create a focal point that gives the impression of balance, pleasant, and well-coordinated.  To make this work you will be needing matching wall lanterns or plants in a pot on either side of your front door. An elegant front door accompanied by windows that are uniform can make a sense of balance, providing stature and significance.  On the latter part, an interested buyer and fast cash in your hand.
Paint Your Garage
It does not need to be overly costly. Paint can make a new face of your garage.  You do not need to install a new garage door.   It only needs a power wash to totally clean the surface to make it looked new. A decent color can make an added look for your garage.
Upgrade your Hardware
To add on the front door, you can improve curb appeal by simply setting up new doorknobs, door handle, and outdated lock.  There is various design to choose, depending on your taste and perspective. Rusty light fixtures cannot captivate even you, it will make the impression that it was neglected and unimportant so why not replace it.  Decorative house number can also make a statement, it will define the overall look of your home.
Fix-It Up
A well-maintained exterior avoids the hiking expenses of your house.  If you do not want to spend a huge amount by buying new ones.  You can take action on noting all the problems and addressing them by making a quick repair.  You can check on any ripped screens, burned out bulbs, or chipped paint.  Any tiny flaw can downside the view of your house, giving you a hard time and anxiety.
Outdoor Furniture.
A stylish bench on the front yard can add an accent to your home, contrary to overcrowded furniture.  Always keep your outdoor furniture clean and in good condition.  Maintain balance even in a small yard, a simple chair with a table topped with a flower can add spice to your yard.
An improvement to your home's curb appeal can make a spectacle and add value to your property.  Whatever your plans are in the coming future, keeping your home or selling it for fast cash, always consider reinventing and upgrading.  It will help you not to depreciate the value of your home but keeping your investment to its higher price. If you decided to sell, do your due diligence. Make sure that you are working with a legit "we buy homes Los Angeles" company. You don't have to look any further though. We recommend Candid Property Solutions. They can provide an honest and fair offer in just minutes!